Everyone wants to feel included. When a person joins an email subscription list, they want to know that their choice was correct.
If you know how to make that person feel at home right away, you'll have someone who engaged more frequently with each communication.
When that person doesn't feel comfortable, you're more likely to lose them to a competitor.
That's why a welcome email is one of your most crucial marketing assets. This resource helps people feel like they're in the right place, especially when the communication emphasizes gratefulness and gratitude.
Letting people know that you're glad they joined is a low-cost way to start a relationship without a significant effort.
This guide takes you through the steps that can help you make your new email subscribers feel more at home. When you implement these ideas, you'll likely see more traction in your lists, leading to additional transactions.
What Are the Best Ways to Create an Effective Welcome Email?
The first element to consider with a welcome email is its subject line. When it is compelling, the urge to click on it is strong.
Your question to answer is this: does the information give more to the individual than it asks in return? If you don't have any equity deposited with that potential customer, asking for a withdrawal on the first communication attempt is unreasonable.
The best options should offer good manners. They should be personalized when it makes sense, describe the action taken, and provide a potential reward.
Those elements make it so that the welcome email is 86% more effective with its communication attempt than a standard newsletter.
Once you've decided on the subject line, you'll be ready to implement the following ideas.
1. Remember to say "thank you" with your email.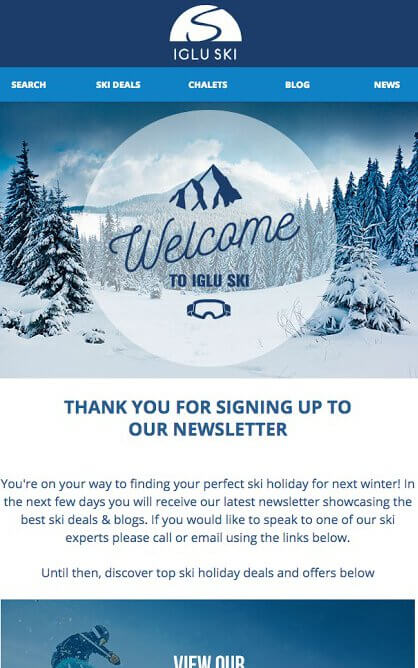 Many marketers say that email marketing is an excellent choice because it costs the prospect nothing. That's not entirely true.
When you ask someone to sign up for an email list, you're getting personal information. That person decides to trust you with something about them.
Sending a note of appreciation in a welcome email is the least you can do to express your gratitude.
It can be a simple text line, a GIF, or an original image.
You can also take a creative approach to the "thank you" portion of the welcome email. Here is a template to consider.
Greet the individual by their name.
Tell them why you're sending the note (because they signed up for your newsletter!).
Be specific about why you're grateful.
Offer directions about how they can get in touch with you.
Add a salutation like "Best Regards" or "Cheers" – whatever feels right.
Sign off with your social handles and your website.
Although you can include product images or make a light sales pitch at this time, the emphasis should be on reinforcing the advantages the subscriber expects to receive.
If you want to make an even bigger impression, consider sending an exclusive discount code with the "thank you" note. It'll create a transaction opportunity while giving the individual a low-risk way to see how well you do business.
This effort should be authentic and sincere. If the message comes across another way, you might lose that person right after you got them.
2. Set some reasonable expectations.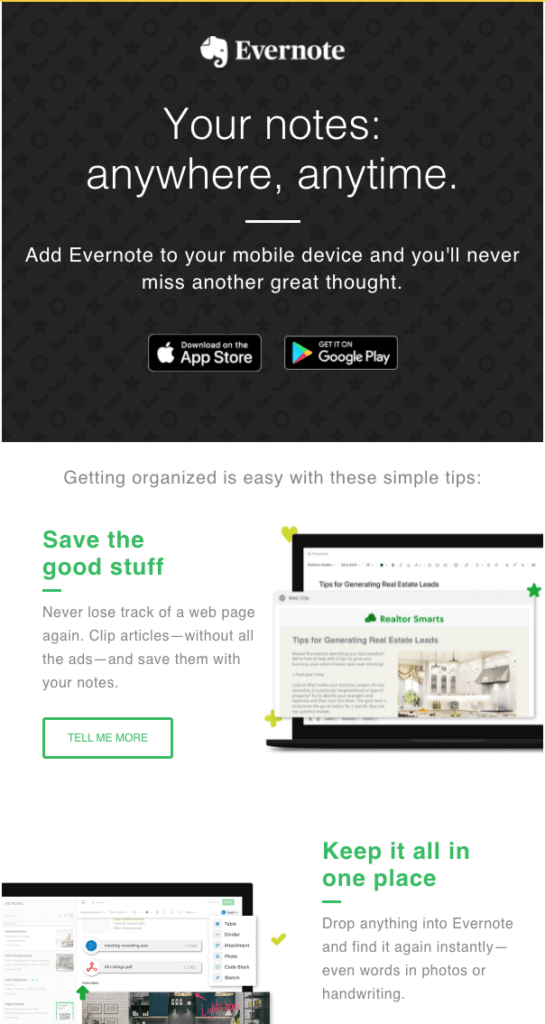 "Congrats! Your welcome email just generating $1 million in new revenue in its first 30 days!"
Although no one would complain about that outcome (except maybe someone already making more than that), is it a realistic expectation as a goal? Probably not.
When you share information about the content someone can expect and how frequently you'll be contacting your email list, it helps everyone know what a reasonable expectation is for this investment.
Some people leave email lists because the discounts aren't steep enough. Others think that they should get free stuff since they're connected with you.
Goals are essential, but they need realistic boundaries. Here are some ideas to clear up any confusion.
Let people know when they can expect to see discounts or coupons in their inboxes.
Be forthright about the savings amount everyone can expect.
Offer other data points, such as sales dates, to get subscribers on the same page.
When someone purchases before opting into your email list, it still helps to introduce yourself and set some boundaries.
Even though you got the transaction, the welcome email can still build a stronger relationship. When you have a healthy connection with a customer, they're more likely to return for future purchases.
It's always cheaper to work with returning customers than to find new ones all the time.
Send your own Welcome email now.
With Mailster you can send you own welcome emails automatically.
3. Offer a meaningful introduction.
Before someone signs up for an email list, they only know about you and your brand from what they've found online or seen in person.
It's essential to remember that not everyone will be a current customer when they sign up to receive emails. Adding a little info about who you are and what your company does starts the trust-building process quickly.
The welcome email is the perfect play to share more about yourself, your company, and how you help others.
It's even possible to start a two-way conversation with a meaningful introduction.
When people make an effort to communicate with a company, they establish a bond that can be challenging to break. Try to avoid buzzwords and jargon during this initial dialogue to ensure the connection can gain strength.
You don't need to be a "thinker" or "ninja-level executive" to gain someone's attention. Accurate information delivered in a genuine welcome email will achieve the results you want.
As an extra step, try to step into the shoes of the person reading the email. How long did it take for them to sign up for messages?
What do you think they hope to achieve by being part of the email list?
When you have those answers, don't be afraid to acknowledge those facts within the body of the welcome email. The empathy you'll display will help build a rapport that leads to a productive relationship for everyone.
4. Have an incentive to deliver whenever possible.
With this tip, there are three ways you can go about delivering a meaningful incentive to a subscriber.
You provide what was promised in exchange for an email address and other items of personal information.
The welcome email provides a surprise incentive that the individual didn't think was coming.
It has a specific value and expiration date that isn't immediate.
Uber provides an excellent example of this structure with their welcome email for new customers. You'll get a free ride with a value of up to $15 after signing up.
Once the message shows you the value, it outlines the steps the individual needs to take to redeem their reward.
Your welcome email can take a similar approach. Think about what you can offer to potential customers that they would find valuable.
Once you know what to deliver, how can you turn it into a meaningful incentive?
One way to think about your new customers is to treat them as if they are unhappy clients. What can you offer that will appease any negative emotions they're feeling while reading the welcome email?
Some of the most popular choices are to offer extra reward points, bonus upgrades with a trial, or additional samples with a first order.
You could offer a discount on that person's next purchase or include a free offer when they spend a specific amount on an upcoming transaction.
Anything that connects your brand to the value offered in the message can reinforce the positive emotions that led to the initial signup.
Finally, remember that any discounts or coupons could impact your budget. If you hand incentives out to everyone without any control mechanisms, your profit margins might shrink.
5. Share helpful resources you've discovered along the way.
About 85% of consumers go online before they decide to purchase something from a website.
What's even more incredible about online shopping is that only 2% of customers will make a purchase the first time they visit a website.
That means the welcome email is an essential tool to bring people back to your site. If they don't have an incentive to return, you won't be getting much business.
Since there should be a little time between the welcome message and a follow-up note, you can use this opportunity to provide links to helpful resources.
It's also a chance to provide access to specific content resources that the individual might find helpful. Guides, blog posts, videos are all shareable options with this initial message.
If you have a subscription site or a gateway that requires a profile, the welcome email can provide the steps needed to finish that process. You can invite people to talk about themselves, verify their info, or get going with their new account.
6. Use the welcome email for social connections.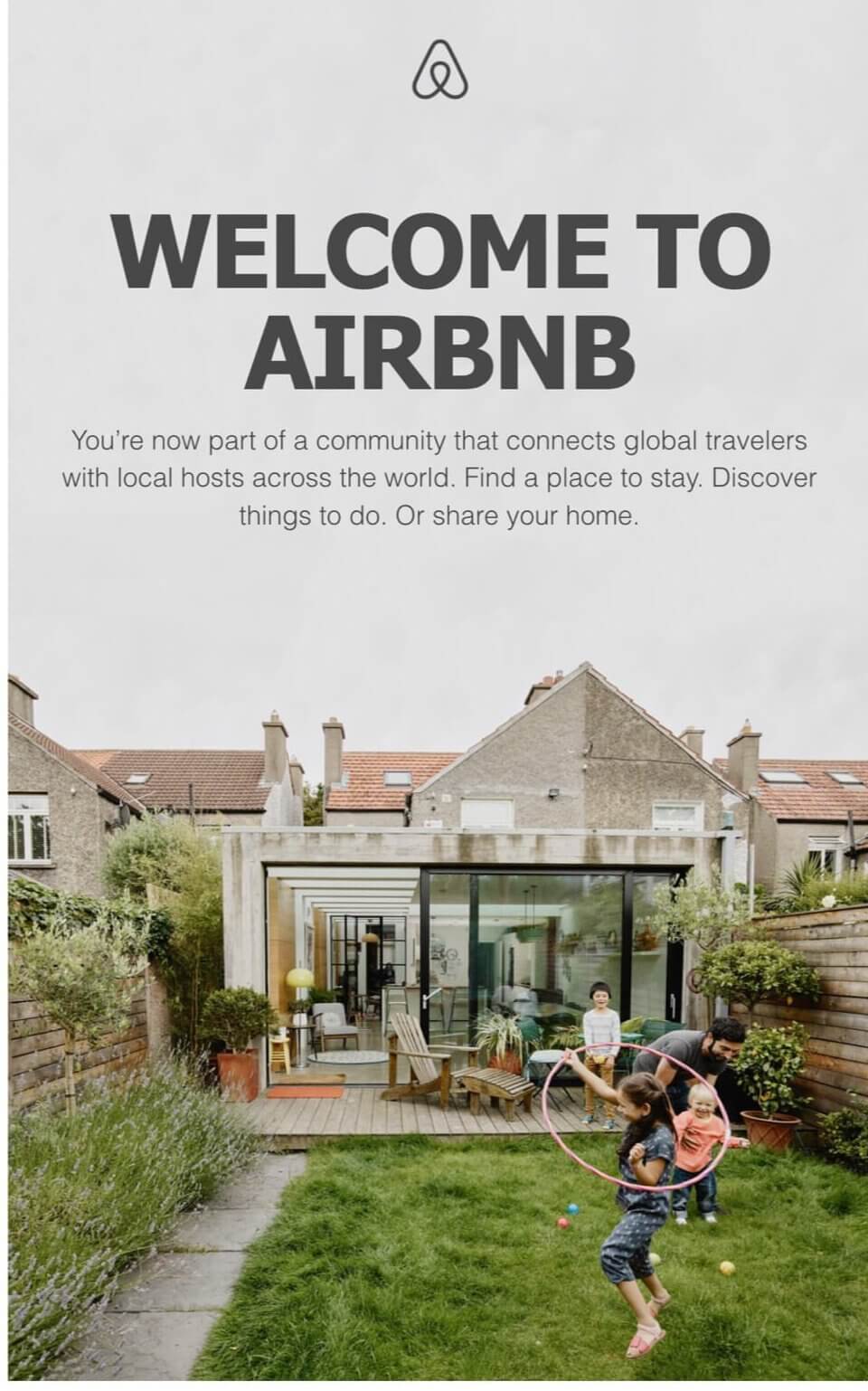 Many people use email lists and subscriptions to feel connected to specific brands and resources. This social aspect of online interactions is what often drives brand loyalty.
When you want to encourage people to connect with your brand and like-minded others, you can link to your social channels in your welcome email.
It can also help to include a click-to-tweet (or post) in the message that encourages a new subscriber to share your email list with their network.
If you take this route, you'll want to show social proof to reinforce the value offered in these connections.
What is social proof? It is a phenomenon where people assume that people take actions to reflect a correct and specific behavior for any given situation.
When people see others performing specific actions, we view the behavior behind those efforts as the correct path to take.
That means the welcome email can show others signing up to connect on different social media platforms. When that imagery gets seen, the individual who signed up for the list feels urged to join that community.
It doesn't need to be Facebook, Instagram, or Twitter to take advantage of this potential benefit. If your website has discussion forums or places to chat online, linking to them can build those communities.
7. Encourage people to stay connected.
The biggest complaint that customers have today is that they cannot speak with a real person. Although using your welcome email to link to a FAQ page or other solutions is helpful, it doesn't solve every problem.
Today's Internet users are savvy. They've already looked for answers to their problems and found nothing.
Those people need direct contact options to relieve the stress they feel about an unresolved problem.
That's only the first step of the process.
Before we all discovered what the Internet could do, it was acceptable to have a 24-hour response time when a customer concern developed. Some companies extended the waiting window to 72 hours or more!
Now, nearly one-third of customers expect a business to respond to a message in less than one hour.
That means a customer who doesn't have your contact information and wants to ask a question is more likely to go somewhere else because you're perceived to be too difficult.
The Perfect Welcome Email Doesn't Exist… Yet
Although you can take steps to create an excellent welcome email with the tips from this guide, it helps to remember that you can't please everyone.
Even if you spend hours on the messaging and check every box, someone will misinterpret something you've written.
The goal shouldn't be to strive for perfection. Your welcome email should offer the best representation of who you are and what you do.
That's why the first step is to be sincere when expressing gratitude. Once you've accomplished that step, you can use the other ideas in different ways to unlock higher engagement levels.
You have an opportunity to show off your value and expertise with a welcome email. These ideas help you deliver on that promise.